Handrail
Handrail, also called guardrail, has to be a minimum of 42" above the deck surface. It has to be strong enough to resist code mandated side loads. It is often required to also provide a barrier to stop objects rolling off the deck surface.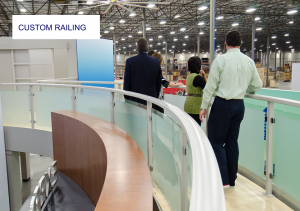 On a staircase, the guardrail must be 42" above the nose of the stair tread. This is uncomfortably high for most people so a safety handrail at 34"-38" above the nose of the stair tread also needs to be provided.
Construction is aluminum in almost all cases though we do produce stainless steel handrail.
Baluster and top rail design varies. Balusters vary in shape and material. Top rails may be round, rectangular, or various wood caps or custom architectural shapes.
We produce handrail with various infill panels, multi-rail or multi-cable rail, or combinations of styles. The number of cables/rails are determined by the code requirement that the maximum space between rails is 4"
On custom decks where the stressed skin deck panels run to the edge of the perimeter beams, we typically use a base shoe that is through bolted to the beams through a slotted hole in the shoe, and oversize holes in the deck panel and top flange of the beam. This gives a very strong handrail with the minimum number of fasteners. It also effectively transmits lateral stiffness throughout the structure, resulting in a very rigid deck. The shoe acts as finished edge for the carpet and pad.
Many of our structures are specifically designed for frequent reconfiguration. On these structures the deck panels run to the center of all the beams, including the perimeter beams. The handrail/guardrail is mounted on aluminum curb which fills the outside "half" of the perimeter beams. There are fast acting cams in the curb to attach the railing securely to the top of the beam.
The railing is built so it connects at the top only. This is a sliding pin to receiver connection for fastest setup. A small gap at the top between adjacent sections of railing avoids the need to fit each handrail section as it is installed, speeding setup.
Fasteners are only used on the corners, to lock the solid aluminum corners to the adjacent rail sections.
Gallery Instructions
Click the picture to see the larger and/or whole picture. You may then scroll left or right to see more images. Use the Esc key on your keyboard or click away from the image to close the enlarged image gallery section.